Inventor of the First Five Skin Tone Emoji celebrates Five-Year Anniversary. iDiversicons™ is Still Touching Lives Today, with our Disability Pride Emoji and New GIFs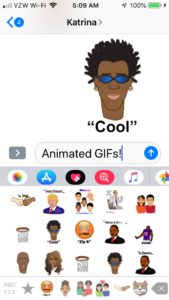 iDiversicons™ was the first native mobile app to offer a wide range of diverse emoji characters. The company is responsible for the 'Five Skin Tone Standard,' which allows users to select from five desired skin tone modifiers for the people emoji. That innovative concept has been adopted and implemented by Unicode, Apple, Google, and others.
In fact, Unicode has approved over 500 of iDiversicons' emoji. Unicode President Mark Davis praised iDiversicons' innovative work: "Without you, we certainly wouldn't have come up with as good a solution!"
iDiversicons is celebrating our Five-Year Anniversary—and we're still touching lives today, like with our Disability Pride Emoji. Maureen recently wrote, "My husband is a paraplegic and was dying to send his fishing buddy one of those icons! Thanks again.
iDiversicons Because one emoji does not fit all. Be sure to check out our new Amazing Animated GIFs at iDiversicons.com and in the App Store. To view GIFs, click on video link below:
---